FULLY EQUIPPED CABINS
WELCOMING LODGE
RELIABLE BOATS & MOTORS
Our dining room boasts a true northern ambiance, and with the family living here since 1936, there are many historical stories and fishing tales to share.
The games room, which all guests are welcome to share in, is equipped with a pool table, many board games and books for your leisure. Adjacent to the Lodge there is a full size deck area to relax in the afternoon shade.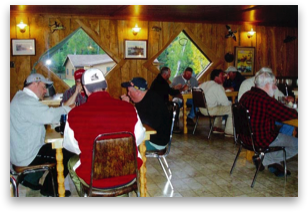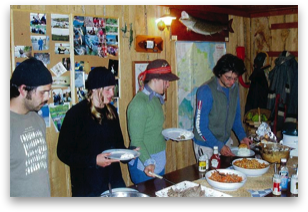 There are 11 cabins available that rest two to ten guests comfortably. Our housekeeping cabins come equipped with hot and cold running water, fridges, stoves, toasters, electric coffee makers, a variety of cooking utensils, single beds, linens, blankets, pillows, modern bathrooms with shower. The cabins are heated with Naden wood stoves.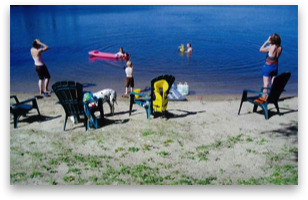 Equipment, Services & Amenities:

~14' Aluminum Naden Fishermen Boats (rental option)
~10 h.p. & 15 h.p. Johnson or Honda Motors (rental option)
~Boat Launch
~Spacious wake protected docking facility with power
~Live Bait (minnows, leeches, night crawlers)
~Fish Cleaning and freezing (upon request)
~Gasoline (plain or mixed)
~Basic tackle needs
~Ice
~Staple Groceries
~Swimming area (beach)